25 Pro Surfers Filmed Around the World in 24 Hours
Check out Nathan Myers latest project following the lives of 25 surfers through a single day.
This film was shot in one day. More than 25 filmmakers and surfers worked in unison to document the world of surfing in a single 24-hour period: May 2, 2012. From world champs like Kelly Slater and Stephanie Gilmore to free spirits like Dave Rastovich, Ozzy Wright and Alex Knost, this project brings together shapers, photographers, legends, beginners, third world, first world and surf world. Some scored big. Others couldn't find a ripple. It's all part of the surfing experience. From contests to camping, hanging at home or hitting the road, veteran surf filmmaker Taylor Steele pulls together an epic, international cast to prove the best place to be is here and now.
STARRING: Kelly Slater, Dave Rastovich, Ozzy Wright, Alex Knost, Rob Machado, Stephanie Gilmore, Conner Coffin, Matt Meola, Jay Davies, Albee Layer, Ford Archbold, Gabriel Villaran, Dede Suryana, Leif Engstrom, Peter Devries, Reubyn Ash, Grant Baker, Garut Widiarta, Mikala Jones, Steve Sherman, Ellis Ericson, Brad Gerlach, Noah Cohen, Alex Gray, Ezekial Lau, Andrew Serrano, Junior Faria, Gilbert Brown, Lauren Lindsey Hill, Jack Robinson
CINEMATOGRAPHY: Taylor Steele, Nathan Myers, Chris Searl, Elliott Leboe, Wyatt Davies, Tim Boydell, Peter King, Bali Strickland, Jeremy Koreski, Etan Blatt, Ryan Perry, Ryan Heywood, Andy Elliot, Rodrigo Metrinho, Saul Garcia, Jimmy Kinniard, Taylor Bonin, Loic Wirth, Jason Shibata, Saul Garcia, Isaac Zoller, Ben Gulliver, Darren McCagh, Mike Nulty, Kishore Kumar
---
Photographs of Sanya: "China's Hawaii"
In search of a break from the Beijing smog, photographers Biel Calderon and Mark Esplin visited the island of Sanya, a famous tourist destination in Southern China.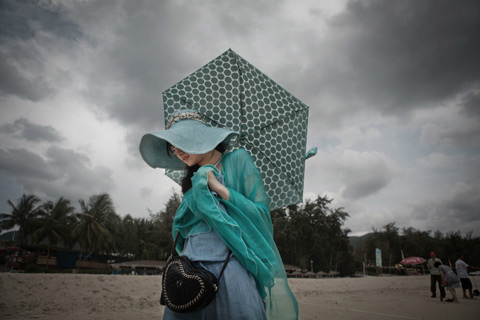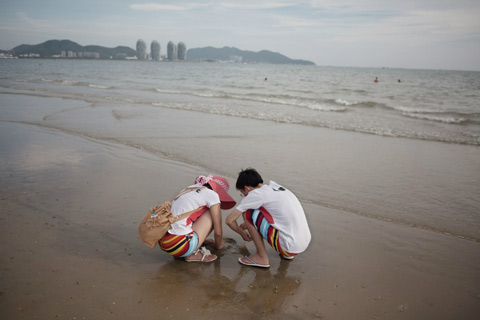 Images Courtesy: Feature Shoot
---
Falkland Islands (Islas Malvinas) to Vote on Sovereignty
The Falkland Islands government has announced plans for a referendum on their political future for early 2013. The vote will allow its inhabitants to choose whether to remain a self governing overseas territory of the UK, or to join Argentina (which calls the islands the Malvinas). The islands have been British colonies since the end of the 1982 Falklands war, and this week marks the 30th anniversary. With the discovery of oil, tension is rising, and Argentina has been disputing Britain's control. They are expected to ask the UN's Colonization Council to return the islands to Argentina this Thursday. Look for more from the Falklands in an upcoming ISLANDS issue.
Courtesy: Reuters
---
Moving to Bali
If Celine Dion's private island was a bit out of your price range, then Bali might be your Best Island to Live On. Bali's constant 85-degree climate, stunning landscapes, and affordable cost of living is just begging you to move.
"Bali, with a population of about four million, is one of about 17,500 islands that make up Indonesia. We settled in a suburb of Ubud, which is considered the cultural and religious center of Bali. In our village, women and men wear sarongs as daily clothing, children take off their shoes and walk barefoot when the school day ends, and the entire community goes to a sacred spring to retrieve holy water. We leased a half acre of land for 20 years for $50,000. The property overlooks a river valley with a small waterfall on the far side. We built a "villa," as a single-family home in Bali is called. Our house has a swimming pool, furniture handmade to our specifications, and flowers everywhere. But in Balinese fashion, there is no front door. An opening, yes, but no door to shut."

Courtesy: Yahoo News
---
Buy Celine Dion's Private Island for Under $30 Million
Inspired by our "Best Islands to Live On" issue? Celine Dion is selling her 830,000 sq ft private island in Quebec for just under $30 million. On it stands a 24,000 sq ft, custom built, French Normandy Chateau, fully furnished. If $30 million is pocket change, for $75 million you can purchase James Island in British Columbia. Once the home of Seattle Wireless magnate McCaw, the island includes an 18-hole Gulf course, a 5,000 square foot home, six guest cottages and a landing strip. It is the second largest privately owned island in British Columbia.
See the Photo Gallery: Courtesy of Sotheby's
---
Islands of Exile
Alcatraz may be the most famous prison island, but it's hardly the only one. The Smithsonian has put together a list of "Infamous Islands of Exile". Included are the likes of Patmos, Greece, Robinson Crusoe Island, Chile, and Robben Island, South Africa.
"Île Sainte-Marguerite, FranceJust off the coast of Cannes in the Mediterranean Sea, the small, forested island of Sainte-Marguerite—about two miles long and a half-mile wide—was home to one of history's most enigmatic prisoners. The convict, whose identity was concealed behind what was most likely a black velvet mask, was brought to the island in 1687, during the reign of Louis XIV, and locked up in the Royal Fort, then a state prison. (His barren cell can still be seen.) Later, he was moved to the Bastille, where he died in 1703 at around age 45. The prisoner's identity and the reason for his incarceration are still not known. But over the centuries, they have been the subjects of much speculation. One popular theory, that he was an older brother of Louis XIV, became the basis for Alexander Dumas' classic tale The Man in the Iron Mask. The Royal Fort continued to be used as a prison until the 20th century. Today it houses the Musée de la Mer, devoted to marine archaeology."
---
Use a Coconut to Plant a Seed
Ever wonder what to do with all those coconuts laying around? They're perfect for starting your very own backyard garden.
---